President's Report in photos
"Thank you all for making my dream of going to senior high a reality.Glory to God and long live Nimdy. Long live Nokware. Together there is hope for the hopeless and a future with smiles and joy "

Doreen
"Ich danke euch allen, dass ihr meinen Traum, auf die Oberstufe zu gehen, Wirklichkeit werden lasst, Gott sei Dank und lang lebe Nimdy. Lang lebe Nokware. Gemeinsam gibt es Hoffnung für die Hoffnungslosen und eine Zukunft mit Lächeln und Freude."

Doreen



Our Hands and Feet:



Lidiya - with her family of 21 children who needed a mother and a safe place to grow and develop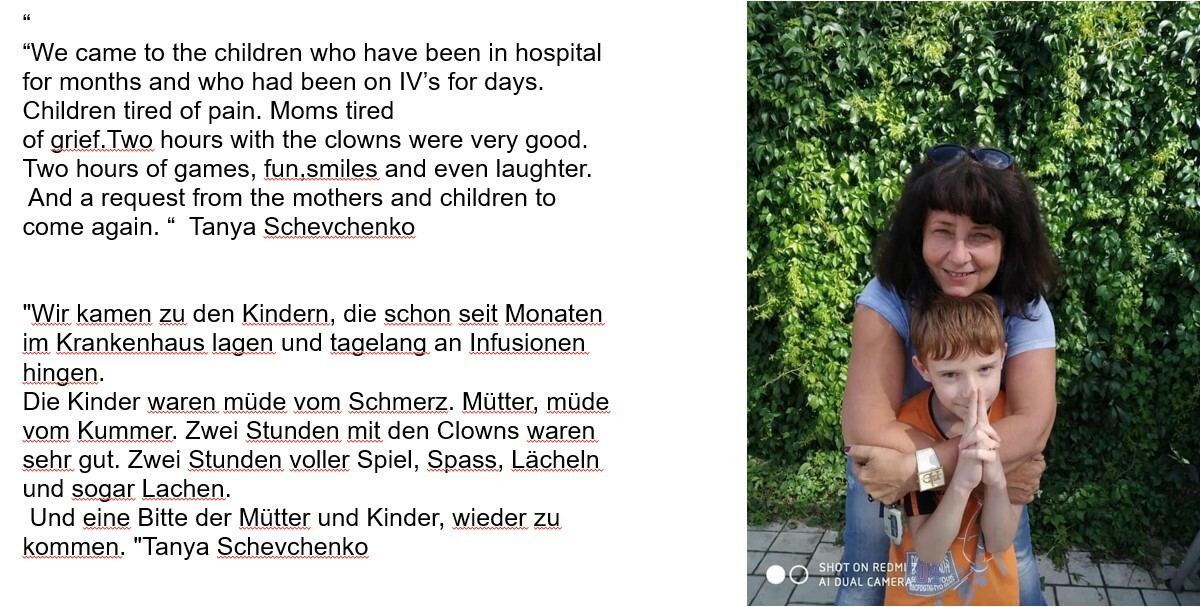 "Clowns continue working even under fire.
The last days in Donetsk are very tense. There are many missiles hitting the city.

But the children are still getting sick and staying in the hospital. They really need clowns to visit them and help them to take there minds off the war- to remember that they are just children. " Tanya Nosach
"Clowns arbeiten weiter auch unter Beschuss.
Die letzten Tage in Donetsk sind sehr angespannt, es schlagen viele Raketen in der Stadt ein.

Aber die Kinder werden immer noch krank und bleiben im Krankenhaus. Sie brauchen dringend Clowns, die sie besuchen und ihnen helfen, sich abzulenken und sich daran zu erinnern, dass sie nur Kinder sind. "

Tanya Nosach




Light bringers



Collected from the institutions to be reunited with their families in Europe who fled.
Sie werden von den Einrichtungen abgeholt, um mit ihren geflüchteten Familien in Europa wiedervereint zu werden.




Moving vulnerable children through a war zone – a great responsibility for Tanya



Thanks to generous people who supported this work with money and time.
Dank an großzügige Menschen, die diese Arbeit mit Geld und Zeit unterstützt haben




www.nimdy.org


Baby Luke with his parents-2 weeks old he sat with his mother

Gladys when she wrote her final bachelor exams. Congrats!




Mentoring young girls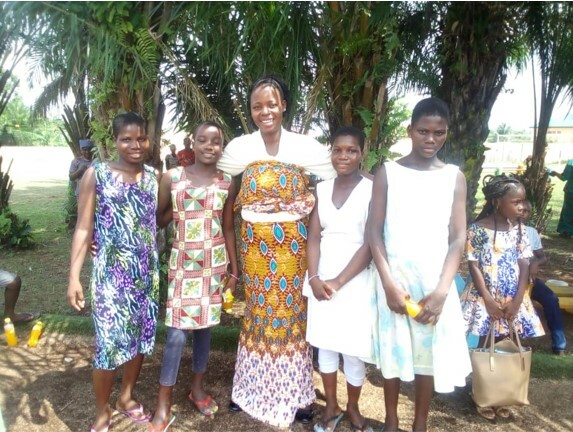 Textbooks and uniforms and material needed to learn



Senior High can be very expensive for parents - The bring their own mattresses as well.




Water Stations continue to be built for thousands of children and villages
Thanks to generous donors and capable project manager Emmanuel and team.


Der Bau von Wasserstationen für Tausende von Kindern und Dörfern wird fortgesetzt
Dank der großzügigen Spender und des fähigen Projektleiters Emmanuel und des Teams.





Breaking the ground ceremony for the water station

Erster Spatenstich für die Wasserstation



Very grateful for the investment from all involved

Sehr dankbar für die Investition aller Beteiligten




Inaugurating the water station- a rich and colourful display of Ghanaian traditions and culture- music and dance.The Queen mother in the middle.


Einweihung der Wasserstation - ein reichhaltiges und farbenfrohes Schauspiel Ghanaischer Traditionen und Kultur, Musik und Tanz. Die Königinmutter in der Mitte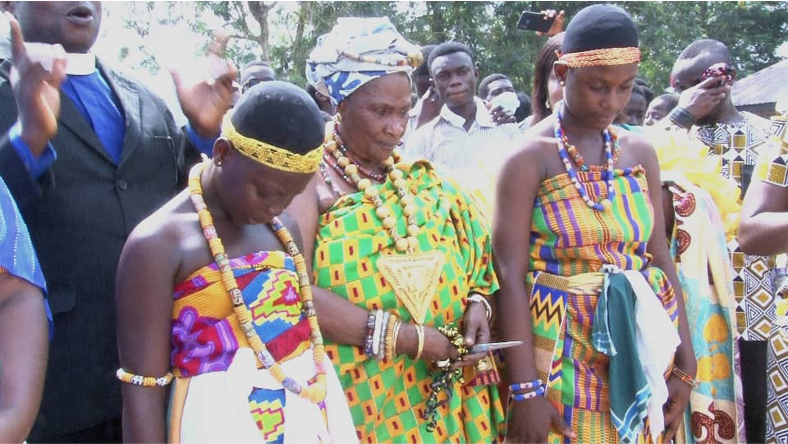 Wir möchten auch Ihnen,
unseren Spendern, unseren Dank
und unsere Anerkennung aussprechen.
Sie sollen wissen,
dass Ihre Großzügigkeit und Ihre Investition in die Zukunft dieser
Menschen Wunder möglich machen.
Wir freuen uns auf Ihre weitere Treue.